Food waste is a major issue in the United Kingdom, and one that has been a bugbear for food retailers nationwide. Digital Innovation has taken place in the last few years, steps have been taken by most major supermarket chains to reduce the problem, including Tesco's pledge to end edible food waste by March 2018. But none have used the revolutionary possibilities of technology like the initiative between Sainsbury's and Olio.
Olio is an innovative food sharing app that allows neighbours to offer food that will be wasted to others. For example, if a family is due to go on holiday they can rummage through their fridge for any goods that are likely to go off while they're away. They then take a photo of the food, post it on the Olio app, and wait for other users to get in touch. The food receiver can then go to the food offeror's house, or any other meeting point, to receive the food.
Little Action, Big Change
Olio's founders, Tessa Cook and Saasha Celestial-One shared a belief that "small actions can lead to big change". And certainly, their success proves that this belief has a basis in reality.
Though the company only launched its free app in 2015 and focused only on a few boroughs of north London, the app has come on leaps and bounds in a short period. So far, the app has facilitated the sharing of over 500,000 food items, saving over 225,000 meals from going to waste. These impressive figures are due to the 400,000 plus users now signed up, from the 41 countries that Olio now operates in. Since 2015, Olio has also added shops, cafes, and markets to its list of associates.
But what does a traditional brick-and-mortar retailer like Sainsbury's get from the partnership?
That the food and drink retailer is involved in a positive social movement reflects well on the business itself and may even attract shoppers who are driven by moral considerations. But there is a bottom-line consideration to the partnership too, as Olio helps Sainsbury's drastically reduce the costs of removing its waste.
Spreading the Message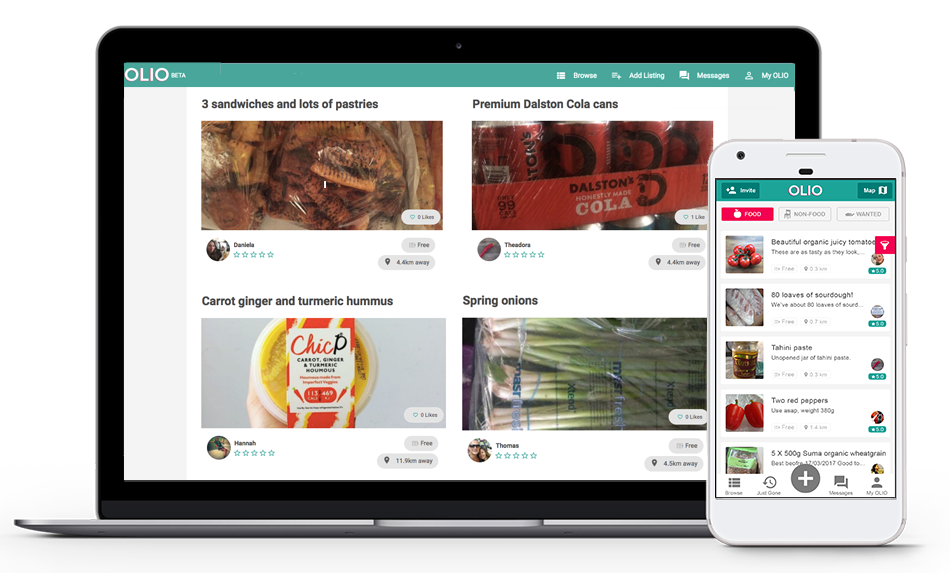 With Olio joining Sainsbury's Waste Less, Save More campaign, its ability to effect change has grown.
As a new member of Sainsbury's initiative, Olio was trialled in Swadlincote and Burton-on-Trent, both in Derbyshire, throughout 2016. The app was wildly popular with residents of the towns, with a mother of six saying that her weekly food bill had been reduced by half thanks to the app.
Owing to its huge success, where 10,000 food items where shared in a six month period, Sainsbury's decided to extend the scope of the partnership. Olio could be set to move to a further 110 communities involved in the Waste Less, Save More campaign.
With help from Olio volunteers, Sainsbury's now shares food that is soon to go out of date direct from their own branches. To ensure that the app doesn't take food away from local charities, the items are first offered to local charities before being shared on the app if they aren't accepted.
The Olio team are currently in talks with other major retailers to see if they can develop their reach yet further.
The Digital Innovation 'Sharing Economy'
As part of the modern, mobile-based sharing economy, Olio is part of a vanguard movement connecting consumers (though in this case they do not pay) to service providers or retailers in a de-centralized, non-traditional manner. Rather than heading to shops or a retail park, consumers within the sharing economy connect with each other.
And despite the clearly positive, charity-like consequences of the app's performance, Olio is a for-profit business. Much like the most famous company to come out of the sharing economy, Uber, Olio is yet to turn a profit.
Spotify is another major app that is yet to turn a profit. Like Olio, it is a "disrupter" app whose appearance sent shockwaves through the music industry and brought about a new way to think about music consumption. Olio intends to do the same with food; not only how we consume our food, but how we think about it.
Yet Olio, a fine example of technology-led "crowd-based capitalism" eventually intends to monetize its platform and eventually turn a profit, leveraging its sizable membership to tempt in corporate partnerships and advertising.
A statement on the Olio website reads; "At the moment we're focused on improving the product and spreading the word so we can get as many people using OLIO as possible. In time we plan to be profitable, and we anticipate earning revenue from corporate partnerships, local advertising, and by retaining a portion (as set by the user) of any donation processed through OLIO."
Staying Lean
Tessa Cook believes that sticking to the Lean Startup philosophy has been key to the app's success.
For Cook, the ability to use a low-cost method to make sure that Olio would be solving a problem prior to launch was vital. Echoing the overall idea behind Olio, little has been wasted in the process of research, product design, and launch.
She believes that as a new startup, getting your product out into the market as quickly as possible is necessary as this allows a team to learn from feedback while generating a client base for long-term stability.
This accelerated rollout is vital to an app like Olio, which relies on a mass of people within a small area; because food produce tends not to have a large value, people won't move too far to get it.
A Bright Future?
Olio's success offers a glimpse into a new and exciting world. Its use of digital technology to help solve the problem of food waste is certainly innovative and can only be admired, as should Sainsbury's involvement.
The future of Olio will be interesting to witness, as they pivot into a profit-making phase. Only then will we see if consumers are willing to pay a fair price for a mission they believe in.
Digital Retail Innovations Report
Take a look at the other 49 top innovations from the UK & Ireland in The Retail Insider Digital Retail Innovations report, it highlights some of the most interesting technological developments which are taking place in the retail sector.