The emergence and adoption of new technologies is having a significant impact on the consumer purchasing process
The rise of mcommerce
In relation to mobile technology – and smartphones in particular – is blurring the lines as to where consumers are shopping, with the modern consumer being able to purchase from anywhere.
Mobile as a purchase influencer
While mobile will continue to grow as a direct sales channel in its own right, its most pertinent impact will be as a purchase influencer, with an increasing proportion of consumers using mobile devices for price checking and research.
The impact of social media
Social media is having a widening impact on the entire retail environment, shifting the balance of power from the retailer to the consumer. Social media sites are increasingly used by consumers as a medium to gather ideas and a port of call to learn about new products and brands from their social connections.
Social media shoppers
We estimate that 31.7% of consumers can be classed as social media shoppers – that is to say social media users that use the medium for shopping purposes i.e. browsing products online, comparing prices or making purchases. Moreover, social media's 'influenced' and 'direct' value currently amounts to around £1.6bn – 6.5% of total online retail sales.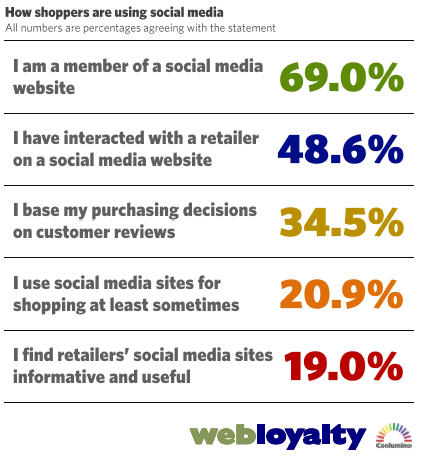 Retailers must meet rising expectations
With the purchasing process becoming more complex, it is important for retailers to invest in meeting the rising expectations of shoppers. In catering to the evolving purchasing process, discipline will be required in creating a consistent experience across the various channels which are being utilised.
Optimising customer engagement
It is becoming more important for retailers to optimise customer engagement, taking advantage of the opportunities afforded by mobile technology and social media.
The evolving role of the high street
At the same time, expectations of physical locations are also evolving. It is becoming more important for retail locations to offer more than just a strong mix of shops with shoppers also demanding more leisure and dining facilities.
View and download the Webloyalty research for free: The future of retail