According to Digital Destinations, a report by Webloyalty, creating a connected seamless experience before and during holidays leads to benefits for both consumers and travel retailers as satisfied customers are more likely to be loyal, interested in purchasing add-on products, and willing to repeat the experience.
In 2015, 61% of UK people took at least one holiday (down from 70% in 2014) either in the UK or overseas, which lasted a minimum of seven nights. These numbers clearly indicate room for improvement if UK travel brands are to fully tap into the market.
Tailoring the travel experience
The report identifies four groups of consumers looking to book holidays in the UK, each with a very different attitude towards technology: digital savvy influencers, social media connectors, online traditionalists, and technophobes.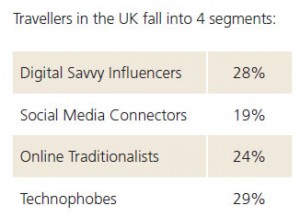 Influencers practically live online and tend to be under 35. They're quite vocal about their travel experiences and are master researchers when it comes to finding the best deals. Their favourite sources of information are search engines (50%), travel booking sites (45%), destination specific sites, and online price comparison sites (37%). Travel brands can greatly benefit from engaging this group online as they usually have a sizable number of followers awaiting their opinion.
Connectors are also very active online and also tend to be under 35 but for them, travel booking takes on an important social aspect. They're much more likely to rely on comments and promotions on travel brands' social media sites, before making decisions about their next destination. Overall, they rely on travel booking sites (27%), search engines (22%), and holiday price comparison sites (14%) when doing their research. To connect with these consumers, travel brands must not only be present and active on social media but they must also offer connectors special "in the know" promotions.
Traditionalists may be older (over 45) but they're no less tech savvy than their younger fellow travellers. They tend to prefer researching travel options through search engines (54%), travel booking sites (43%), destination sites (37%), and online price comparison sites (28%). However, because their concerns about security tend to increase as they get older, these consumers very rarely use mobile apps to book holidays and are less likely to share about their holidays on social media. In order to connect with traditionalists, travel brands must focus on the functional aspects of the experience by providing a lot of useful information, including price.
The last group tends to be older (between 45 and 64) and while they're slowly appearing on social media, they're mostly doing it because they want to stay connected with family and friends. Technophobes are concerned about online security and are the most likely group of UK travel consumers to use a travel agent on the High Street to book their holidays. While traditional media and retail channels still work well with technophobes, travel brands can gain these consumers' loyalty by presenting themselves as guides in the transition to the online world.
Shaping the online world
There's no denying the influence of the Internet on the UK travel industry today. After all, 75% of UK travellers already book their holidays online. That said, there's still some room for improvement, as travel brands have an opportunity to increase traffic to sites by understanding who uses them and how.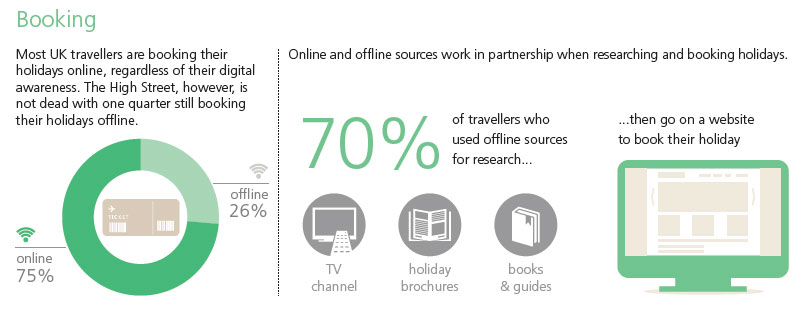 While the two most important factors for travel consumers when they book travel and holidays online are the price (90%) and ease of booking (88%), according to the report, the overall travel booking experience can vary greatly from one type of consumer to another.
Consumers use digital technologies to find inspiration, plan and book their vacations as well as share their memories and impressions with others when back from holiday. But the way people conduct their research depends on what they're looking for.
People looking to book a holiday package tend to use a mix of online and offline sources while those who book elements of their holiday, such as flights and accommodations, separately are usually more concerned by price and focus their search on comparison and travel booking sites.
But that doesn't mean travel brands should abandon their offline presence. While they are the least likely to use online search tools to plan their vacations, consumers between the ages of 45 and 64 also happen to be the ones who go on more foreign holidays than any other group. This means holiday retailers shouldn't throw away their offline presence just yet.
Staying connected on holiday



The way travel consumers use digital technologies during their holidays also varies depending on age, gender and the devices they favour. According to Mobile Consumer 2015: The UK cut, 76% of adults in the UK now own a smartphones. It's no wonder then that many travellers use their smartphones during their holiday to upload photos and videos onto social media with a third using photo apps.
With a third of the UK population now using tablets, they too are becoming increasingly popular tools during holidays. But while smartphones are often used for spontaneous social interactions, tablets tend to be used for practical reasons such as looking at map apps, looking for restaurants or review sites.
Men and women also tend to use these technologies for slightly different reasons with women using their devices almost equally between looking at maps, communicating and uploading or looking at photos while men spend a majority of their time looking at maps.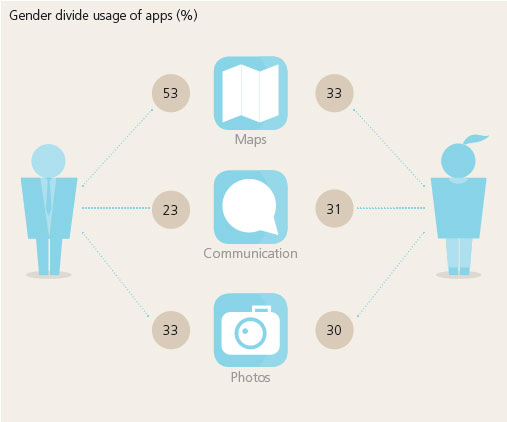 In terms of age, 16 to 44-year-olds are more likely to use devices to access and post content online while 45 to 65-year-olds tend to use digital technologies to look at pictures of destinations. Finally, the 55+ age group is the most likely to post feedback on review sites like TripAdvisor.
UK travellers' reluctance to embrace a digital detox whilst on holidays means that travel sites can continue to interact with their customers during their trip. This interaction can take the form of practical advice for the technophobes or fun and social recommendations for the social media connectors. But more than anything else, any app or site used to connect with customers during their holiday must offer a "quick, easy and seamless" experience, says the report.
Room for improvement
While online holiday shopping and booking is at an all-time high, there's still a lot of room for improvement. Of the 25% of travellers who plan day trips and activities, only 14% actually go on to book.
According to the report, "converting pre-holiday activity 'planning' into pre-holiday activity 'booking' represents the strongest opportunity for generating additional revenue from travellers in the 'gap' after booking and before going on holiday." To do this, travel brands must tap into the excitement that comes right after booking a holiday and offer time-limited offers on activities while they have a captive audience.
They can also continue to interact with their customers during their holiday by encouraging them to share their 'best moments', as travellers are generally more active online whilst on holiday, says the report. After their return, customers should also be prompted to write about their experience, perhaps even write a review, thus establishing a more long-term connection post-holiday and into the future.