According to a Webloyalty report on UK Christmas Trends for 2015, this year's holiday season is looking promising for UK retailers. On average, consumers will devote 10 hours to spend their overall budget of £442, which includes gifts, food and drink and seasonal non-food items, for a total estimated at £16.481 billion in total Christmas spending.
Consumers feeling the Christmas spirit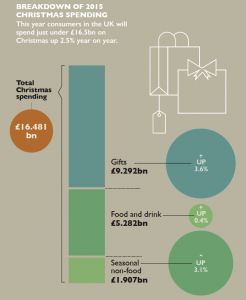 For the second year in a row, overall Christmas spending is on the rise (2.5% this year versus 2.7% in 2014). Just like the year before, increased spending will be seen across the board with a growth of 3.6% for gifts, 3.1% for seasonal non-food, and a more modest 0.4% rise in groceries.
Almost 73% of UK shoppers plan to spend the same or more as they did last year, which should be music to retailers' ears. On average, consumers will spend £283 on each gift for Christmas 2015.
Continuing shift towards online shopping
In the last few years, UK High Street retailers have gone out of their way to offer consumers better and more personalised ways to make purchases using the latest technology and devices. More and more smaller retailers and designers have also opted to sell online exclusively. It's no wonder then online shopping continues to grow and that this year, only a small minority of shoppers (15.1%) indicate they will do their Christmas shopping exclusively in store.
As for online shopping, consumers can now choose from a wide range of connected devices to make their purchases. More than 40% plan to use a mobile device to do their shopping compared to almost 40% who will use a desktop computer and almost 30% a laptop.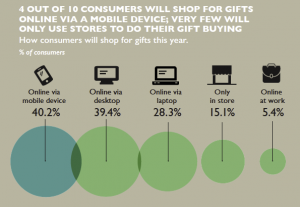 Christmas food shopping remains a hands-on affair
While gift buying is gradually shifting online, shopping for food during the festive season remains primarily a tactile activity. For this special occasion, it seems consumers still prefer to pick and choose the items they will put on the table come Christmas day. As a result, less than 1 in 10 consumers plan to purchase holiday groceries exclusively online. A majority in fact (30.4%) indicate a preference for doing all their grocery shopping in store while 25.5% plan to do a bit of both.
In terms of budget, the report shows that more than half of consumers plan to spend over £150 on their Christmas food and groceries. While Tesco remains at the top of the food chain this year capturing almost 35% of intentions when it comes to grocery purchases, it's retailer Aldi in 4th place (with 24.5% of intentions) that has gained the most in popularity since last year with an increase of over 5%. Sainsbury's and Asda come in 2nd and 3rd place with 29.3% and 25.3% of intentions respectively.
UK retailers can expect a merry holiday season this year as Webloyalty's UK Christmas Trends for 2015 report shows. With a rise in planned overall consumer spending, they'll be able to raise a toast to the New Year!
Research featured in: