According to Webloyalty's most recent report, The Unfaithful Consumer, this is a time of unprecedented change for UK retailers. Today's shoppers are better educated, want value for money, use many tools to do their research, and are more time-strapped than ever. Perhaps even more importantly, they now control the retail exchange and are not afraid to voice their dissatisfaction, spelling potential trouble for UK retailers.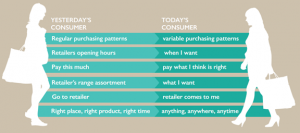 UK consumers are dissatisfied and not afraid to share their opinions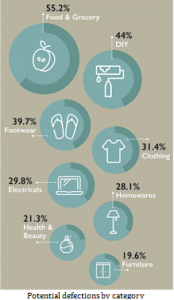 The report paints a worrying picture of the consumer mindset. Despite retailers' efforts to multiply the ways in which their customers can shop, more than a third of them find the experience more frustrating than five years ago. Almost 75% UK consumers are dissatisfied with some aspect of the shopping experience. This could have significant consequences with large numbers of consumers threatening defection. In fact, if all dissatisfied consumers abandoned the retailers they currently use, the cost would reach £120bn, with the food and grocery sector being the most affected with a loss of over £85bn.
Topping the list of factors that would trigger the defection of 57% of shoppers is rudeness from staff members. Poor quality items (44%), dirty stores (42.5%), large price increases (40%) and being regularly more pricey than alternatives (34%) round up the top 5 reasons that might drive shoppers away from a retailer.
Explosion of choice puts power firmly in the hands of consumers
More than ever, consumers today are spoilt for choice. That's because UK retailers have worked hard to respond to their wants and needs. The report shows that in the clothing sector for example, only 14% of consumers in 2005 used three or four channels and touchpoints to do their shopping compared to almost 50% in 2015. But this fact coupled with access to international markets and an explosion of product options means consumers today are in the control seat and are not as loyal as they used to be.
While the retail pendulum has swung decisively in the direction of consumers, it's not all gloom and doom for UK retailers, who can appeal to shoppers' loyalty by focusing on a few key aspects.
Convenience, value for money and focus on experience key to shopper's heart
Consumers "are time-pressured, so convenience and speed has taken priority," says Guy Chiswick of Webloyalty. According to the report, almost 70% of consumers feel they have less time to shop than they used to so it's not surprising 55% put convenience at the top of their list. These numbers combined with the fact that almost 34% of shoppers indicate they're dissatisfied with the lack of convenience, opens the door for retailers to improve in an area that matters greatly to their potential customers.
Value for money is also important for UK shoppers, who still remember the sting of the recession, and more than 80% of them say they look at products in stores and then go online to find the best price while almost 35% say they shop around for the best prices.
But more than anything else, "personal experience along with word of mouth from friends are key drivers in determining where consumers shop" today. When asked what tools they use to help them decide where to shop, UK consumers listed online research (57%), word of mouth from friends (56%), personal experience (51%), reviews written by third parties (48%) and social media (43%).

These results clearly indicate a shift away from advertising and marketing­—where retailers still spend large amounts of money—as tools to entice consumers and gain their loyalty. "Retailers should be looking to implement a gradual shift towards digital media," recommends the report, as social media becomes "a more effective tool for targeting specific customer groups."
But in the end, it's all about the experience. "Destinations, both online and physical, should be about experience, excitement and inspiration." That includes investing in great service, a top factor of consumer loyalty. "Physical locations should offer a comprehensive leisure and food service mix that keeps consumers coming through the doors and increases dwell times, while online can look to areas like gamification and the creation of online communities to drive loyalty and growth."
Want to hear more about The Unfaithful Consumer? Come meet us at RBTE!